Discover more from SaveChinatownYVR
Join the fight to Save Chinatown YVR. Sign up to stay up-to-date with the latest news.
Over 2,000 subscribers
How CTV hijacked our Chinatown dance party
They really delivered on party pooping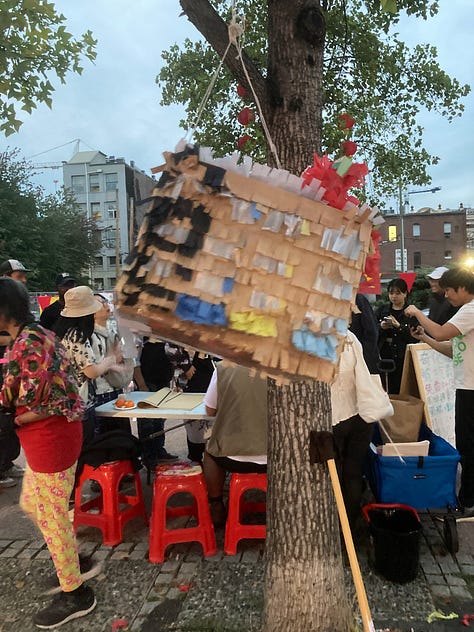 The 105 Keefer Protest Thank You Chinatown Dance Party to celebrate 10 years of resistance was an epic success (except for a part that we'll dive into in a bit)!
Dancing to music by DJ WHICHNANCY, TRAXXSTAR, and FAGOFCOLOUR, we pinned the clown nose on a certain clown, threw sacks of gold into a gentrifier's mouth, slipper smacked all the evils out of the world with feng shui justice, smashed the 105 Keefer pinata full of gold, and ate delicious dim sum. We ended the night with slicing the 105 Keefer cake in pieces with a meat cleaver to eat gentrifiers, while watching the film archives of Sid Chow Tan that included the fight for head tax redress and our 2017 105 Keefer activism. (If you want to relive the party, check out DJ TRAXXSTAR's playlist here. If you have any photos of the party, reply to this email and send it to us!)
But of course someone had to be a party pooper. CTV came uninvited to the party, and ruined it the next day.
They showed up with a camera claiming that they were "covering the party" and even confirmed with the newsroom that that was the case after we questioned them. We suspected that they were there to use footage of the party to splice us as token Chinese into a narrative about the recent stabbings, and not actually there to cover our decade of resistance against gentrification and Beedie's 105 Keefer.
And boy did they deliver. This was the headline the next day:
This thank you dance party had nothing to do with the stabbings. It was to thank you all for a decade of fighting against 105 Keefer and our community resilience against gentrification. The party was going to happen regardless.
But of course, CTV had to use us as a top off to a segment about "community resilience after the stabbings" featuring…yes, you guessed it…all gentrifiers, specifically two yoga studio owners (one donning an "I heart Chinatown" hat), and a soon-to-be cafe owner in the neighbourhood:
These folks were interviewed because they're are definitely a great cross-sectional representation of Chinatown's community right?
Chinatown and its people aren't just some token Chinese to top off news clips of white gentrifiers. Our celebrations shouldn't be some convenient b-roll for media to splice into fear-mongering narratives.
But again and again whether it's media using Chinatown as backdrop for COVID news clips, or Chinatown sold as an oriental backdrop to million dollar condos in 105 Keefer, our culture and community continue to be treated as a tool that disregards us as actual people.
CTV literally stole our beautiful moment of community celebration and rewrote it into a self-serving fear-mongering narrative they're pushing to the public.
This is a prime example of unethical journalism and why we need to feng shui justice to slipper slap CTV's bad vibes out of Chinatown.
In our comedy standup day with UniCome this past Sunday, the performer Clay summed it all up perfectly:
Anyway, if you have something to say about this, we're hosting an open mic after the poetry readings at bao and brew this Sunday 1-3pm. Eat some baos, sip some tea, listen to music and poetry, make political buttons, and continue the fight against "baoing" down to 105 Keefer!
---
Community Events
3rd Annual Fire Dragon Festival (Sat, Sept 23 to Sun, Sept 24)
bao and brew: poetry in the plaza (Sun, Sept 24, 1-3pm) - SaveChinatownYVR x candie tanaka
Mid Autumn Festival Celebration at Carnegie Community Centre (Thurs, 10am to 3pm)
---
Help us expand the events series to reclaim space in Chinatown!
This event series has proven that regular cultural events in Chinatown helps bring people to the neighbourhood while enhancing our connection to Chinatown's living culture, so we're planning to keep them going beyond September! To help us with the costs of expanding the event series, consider making a donation to the community events fund to make the events free and accessible to as many people as possible.