Discover more from SaveChinatownYVR
Join the fight to Save Chinatown YVR. Sign up to stay up-to-date with the latest news.
Over 2,000 subscribers
Happy 106th Birthday to the heart and soul of Chinatown, Mrs. Chang!
Plus upcoming 105 Keefer resistance events to continue Mrs. Chang's fight.
Mrs. Chang, the heart and soul of Chinatown, is turning 106 years old today! This beyond centenarian activist from has been at the forefront battling against Beedie and gentrifiers in Chinatown. In her 105th year, she truly lived the name of the greatest generation and didn't miss a beat rallying against 105 Keefer. Here are photos of her at various protests over the years: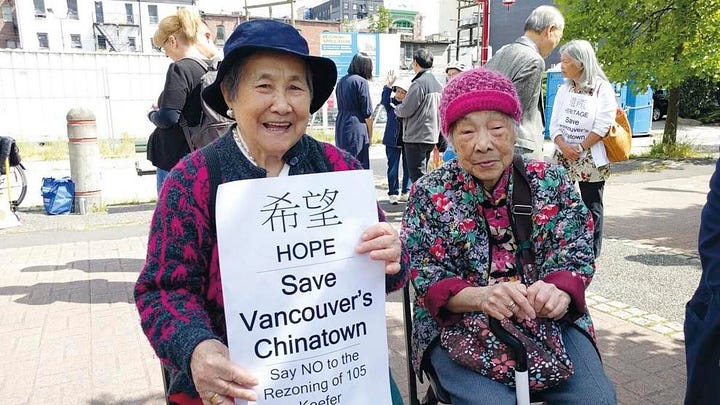 If you'd like to send Mrs. Chang birthday wishes, you can do so by sending an email to Beverly who will pass on your wishes to her:
If the email button doesn't work, you can reply to this email with your birthday wishes.
A tribute to Mrs. Chang from Formerly Homeless Dave during the height of the recent 105 Keefer protests…
---
To continue Mrs. Chang's fight against 105 Keefer and gentrification in Chinatown, join upcoming community events to resist Beedie and occupy 105 Keefer:
Kick Out Gentrification Kung Fu (Sat, Sept 9 2-5pm)
Kick out gentrification at 105 Keefer and in Chinatown with a free kung fu and lion dancing workshop with the Chau Luen Athletic Club on Sept 2 from 2-5pm at the Chinatown Memorial Plaza.
You'll learn the basics of kung fu, lion dancing, and drumming from one of Chinatown's longstanding benevolent society athletic clubs. There will also be a kung fu and lion dancing demo, and a post-workshop snack social to re-energize and connect with the community!
All ages welcome. Beginner-friendly!
---
Save the Date: 105 Keefer Protest Thank You Dance Party on Sat, Sept 16 evening!
To thank everyone for a decade of effort of fighting 105 Keefer and gentrification in Chinatown, we're hosting a thank you dance party to celebrate you! There'll be cheeky carnival games, dancing, cake, and a special screening of late community activist Sid Chow Tan's community films. Sat, Sept 16 evening — save the date!
---
Chinatown Rhythms: Tai Chi and Poetry Against Gentrification (Fri, Sept 8 6:30-9:30pm)
In collaboration with artist S F Ho, join us on Friday Sept 8th from 6:30–9:30pm for an evening in the heart of Chinatown to move your body and mind!
Featuring:
Tai Chi led by community elder and activist Mrs. Ma

Chinese classical instrument music by Zoe Leung

Chinese and English language poetry with Bo Liu, Selina Boan, Mercedes Eng, and others to be announced

Welcoming by Manuel Axel Strain
In addition, there will be snacks, NARCAN, and Chinese translation for the intro and outro of the event.
Accommodations for deaf and hard-of-hearing community members forthcoming.
Message from the curator, S F Ho:
It's been so heartening to see community continue to come together against Beedie's awful development proposal at 105 Keefer. Sharing art, language, food, and heritage at the Chinatown Memorial Plaza demonstrates our living cultures that will not be erased by gentrification, greedy developers or a poor-bashing city council.
---
We need your help!
After hosting several events, we're now getting an overwhelming demand from the community to host even more events (including a film screening, comedy night, author reading, and more) stretching well into September. To help us with the costs of expanding the event series, consider making a donation to the community events fund to make the events free and accessible to as many people as possible.