Discover more from SaveChinatownYVR
Join the fight to Save Chinatown YVR. Sign up to stay up-to-date with the latest news.
Over 2,000 subscribers
Free "Big Fight in Little Chinatown" screening on Thurs + Moments from Chinatown Rhythms
Plus more Chinatown events this weekend
Patagonia Vancouver is hosting a free screening of Big Fight in Little Chinatown this Thursday evening at 7pm.
Big Fight in Little Chinatown is a story of community resistance and resilience. Set against the backdrop of the COVID pandemic and an unprecedented rise in anti-Asian racism, the documentary takes us into the lives of residents, businesses and community organizers whose neighborhoods are facing active erasure.
After the screening, there will be a Q&A panel with Kam Wai's William Liu, Chinatown Legacy Stewardship Group's Stephanie Leo, and SaveChinatownYVR's Melody Ma.
Drinks provided by Persephone Brewery, Coastal Cultures Water Kefir, and Nonny Beer. All proceeds from the event will be donated to the hua foundation.
The film has sold out in every run in Vancouver, so don't miss it!
---
Touching moments from Chinatown Rhythms
Despite being locked out of every public and city-owned space on Friday, we still made do with a little sliver of space at the Chinatown Memorial Plaza for Chinatown Rhythms poetry night.
We were welcomed by Manuel Axel Strain, heard beautiful pipa music from Zoe Leung, thought-provoking and heartfelt poetry from Bo Liu, Selina Boan, Mercedes Eng, Debby Leung, jaye simpson, and William Lim.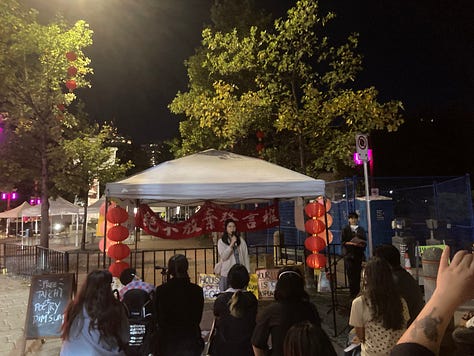 There was a touching moment while long-time Chinatown elder and activist William Lim read his poetry and a passerby decided to stay and this happened…
This was the poem in question that William wrote, translated, and read:
---
More upcoming events
105 Keefer Protest Thank You Chinatown Dance Party + Sid Chow Tan Film Screening (Sat, Sept 16 6:30-10pm)
唐人街開咪 Give The Mic Back to Chinatown | Open mic & Comedy & Karaoke (Sun, Sept 17 2-5pm)
---
Help us expand the events series to reclaim space in Chinatown!
This event series has proven that regular cultural events in Chinatown helps bring people to the neighbourhood while enhancing our connection to Chinatown's living culture, so we're planning to keep them going beyond September! To help us with the costs of expanding the event series, consider making a donation to the community events fund to make the events free and accessible to as many people as possible.