Discover more from SaveChinatownYVR
Join the fight to Save Chinatown YVR. Sign up to stay up-to-date with the latest news.
Over 2,000 subscribers
4 new Chinatown events: Tai chi, poetry, dance, film, comedy & Gain Wah
End the summer occupation of 105 Keefer with a bang
Four events in Chinatown in next two weeks, including the long-awaited 105 Keefer Protest Thank You Dance Party to celebrate you!
---
1. Chinatown Rhythms: Tai Chi and Poetry Against Gentrification (Fri, Sept 8 6:30-9:30pm)
In collaboration with artist S F Ho, join us on Friday Sept 8th from 6:30–9:30pm for an evening in the heart of Chinatown to move your body and mind!
Featuring:
Tai Chi led by community elder and activist Mrs. Ma

Chinese classical instrument music by Zoe Leung

Cantonese, Mandarin, and English language poetry with Bo Liu, Selina Boan, Mercedes Eng, Debby Leung, and jaye simpson

Welcoming by Manuel Axel Strain
Please note that the location will be nearby Chinatown Memorial Plaza (you'll be redirected on the day of!), but not at the plaza because it will be fenced off to become a beer garden and bar hosted by the 105 Keefer-supporting gentrifier Chinatown Foundation for their Light Up Chinatown Festival.
---
2. Gain Wah New Life Block Party (Sat, Sept 9 12-4pm)
Our friends at The Gain Wah Project is hosting a community gathering to support food security and affordable housing on the 1 year anniversary of the Gain Wah restaurant fire in Chinatown. There'll be free food and performances. The block party will be at 218/222 Keefer next to Gain Wah from 12-4pm.
---
3. 105 Keefer Protest Thank You Dance Party + Sid Chow Tan Film Screening (Sat, Sept 16 6:30-10pm)
Let's take a moment to celebrate our 10 years of relentless resistance against Beedie's 105 Keefer gentrifier condo by dancing the gentrifiers away!
Through all the battles we've fought, some won and some lost, one thing remains clear: gentrifiers might have money, but we have community. As a finale to the series of summer protest cultural events to occupy 105 Keefer, let's celebrate community and our collective work with some witty fun, cake, dancing, and film!
What to expect:
Music by DJs Nancy Lee 李南屏, Alger Liang 梁家傑, and fagofcolour 牛奶哥

Cheeky anti-gentry carnival games like smash 105 Keefer pinãta, and other secret hilarious games you need to show up to see for yourself

Film screening of late community activist Sid Chow Tan's films of Chinatown activism (start time ~8:30 or 9pm)

"Eat 105 Keefer" cake (actual delicious Chinatown-sourced cake)

Nostalgic childhood snacks and drinks from Chinatown (think Yakult and VITA)
---
4.
唐人街開咪 Give The Mic Back to Chinatown | Open mic & Comedy & Karaoke (Sun, Sept 17 2-5pm)
In collaboration with UniCome, a grassroots Chinese Queer Feminist collective, we're excited to announce our upcoming community event to Give the Mic Back to Chinatown.
Join us on September 17th from 2 to 5 PM for an engaging program that features stand-up comedy performances in Mandarin, Cantonese, and English, an open mic session, and karaoke.
We encourage you to sign up for the open mic session on the day of the event. Share your unique stories, whether they are about immigration experiences, reflections on racism, gentrification, or delve into topics related to the meaning of "home," cultural appropriation, language justice, and beyond. We welcome all forms of expression: poem, storytelling, singing, jokes, or sharing of ongoing thoughts…
Together, let's dismantle the stereotypes, build solidarity, connect with real individuals and their experiences, and reflect on the relationships between international students, new immigrants, different generations of the Chinese diaspora, and Chinatown itself.
---
Photos from Kick Out Gentrification Kung Fu and Lion Dancing on Sat, Sept 2
Kung fu and lion dance workshop with Chau Luen Athletic Club was a full-house success! We made sure gentrifiers heard loudly that we're occupying 105 Keefer and reclaiming Chinatown with our culture and bodies.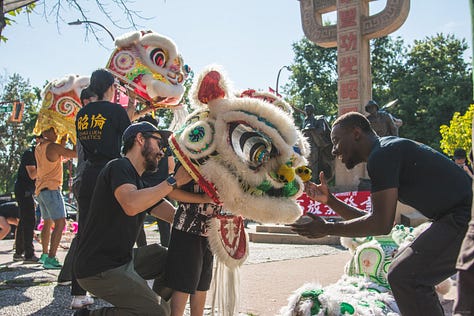 ---
We need your help!
This event series has proven that regular cultural events in Chinatown helps bring people to the neighbourhood while enhancing our connection to Chinatown's living culture, so we're planning to keep them going past September! To help us with the costs of expanding the event series, consider making a donation to the community events fund to make the events free and accessible to as many people as possible.